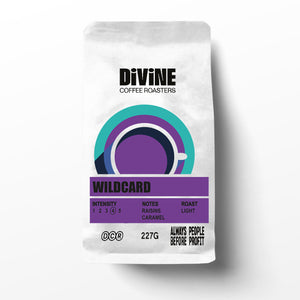 Full bodied with great flavour
Wildcard is a really nice full bodied coffee with a terrific flavour. I'm using it with a V60 dripper and the results are really pleasing.
Another belter
Tried a few Divine Beans now and other than the El Savador they have all been great. When I've dialled in the grind size these beans are great in either my V60 or aeropress
I have not tried this yet, but there's no such thing as a bad coffee from Divine
Not even skullcrusher gives me the kick wildcard does.
I love coffee and I'm picky when it comes to it. Wildcard gets my full approval, it's tasty (the fruity, dark sugar and chocolate tones come through), and it gives me a boost that even skullcrusher lacks. I've had it as an americano and as a cappuccino, and the flavours shine through.
Wildcard
I really like this coffee - lots of flavour but not overpowering - great morning start coffee