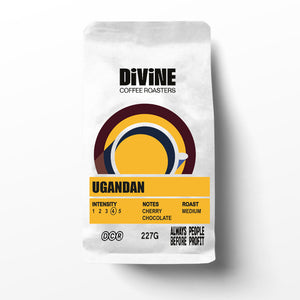 Great filter coffee
I bought this to take on holiday with me for a v60 pour over first thing in the morning. The coffee didn't disappoint, a jammy fruity hit with some real depth.
One of the if not the best coffee's I've found for making a home brew, I'd recommend this to anyone making their coffee with a v60 or other pour over kit.
Order of Uganda whole bean
The coffee has a smooth taste but limited kick as it only has a strength of 3. We bought it for a Ugandan friend who was visiting but it turned out she didn't drink coffee. But we can vouch that this is a wonderful coffee to drink and for me who had been to Uganda this year a great memory. It compliments our strength 5 Fortuna coffee which we also order from Divine Coffee. The super speedy service of Divine Coffee is quite incredible and kept us in the drink we love.
It's ok
Fortuna still my favourite but thought I'd give the Ugandan a trial as I've been to the country and had some really good coffee - even toured a coffee plantation - didn't quite meet my expectations but overall not a coffe
Quality
Speedy delivery and a lovely smell when you open it.
Delicious
My co favourite Divine Coffee so far
My taste in coffee seems to be moving towards darker rather than medium roast and I'm trying different coffees to find some new favourites. I use a moka pot and Aeropress and non dairy milk.
I bought the Darkside variety recently and I enjoyed it more than I expected bearing in mind it's the darkest roast.
I'm now trying the Ugandan. This isn't as dark a roast but I'm enjoying this in my moka pot. I'm not so sure about my opinion in an Aeropress yet but I was trying it with a different milk so I need to try it again with my favourite oat milk.
I would buy this again.