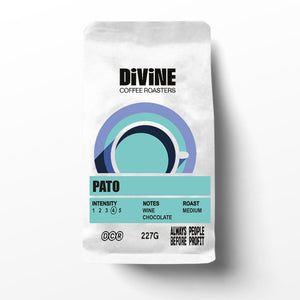 Soooo nice!
Love this coffee. We normally get the Fortuna coffee but thought we would give this a try. It's a much milder coffee than the Fortuna one but it's great tasting, smooth and works well either black or flat white. Also good to have in an afternoon as it's not massively strong. Will definitely be buying again.
Deliciously smooth
Pato tastes delicious black and is so so smooth. It's so good in fact that it has converted me from using another roaster in York to exclusively using Divine.
Smooooooth!
Beautifully smooth! A firm favourite of mine.
Best coffee
PATO and Fortuna for me a the best ,We use DIVINE long time ,free delivery lovely coffee taste !hardly recommend.
Amazing coffee
This is our go to coffee for our French press! It's smooth and tasty, great strength and super flavourful! Love it for morning coffee or a latte in the afternoon.