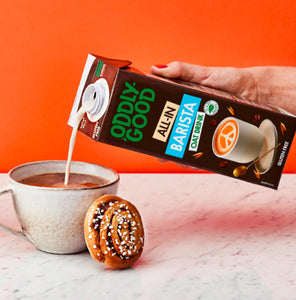 Tastes just like I remember!
Found this product in Sweden when I lived there, and thought it was the best oat milk ever, nothing compared. Sadly I couldn't find it in stores in the UK so was very happy when I found it on divine coffees website! I have it in hot and cold coffee and it foams brilliantly for each! Lovely smooth taste with just enough richness to make the perfect cup!
Best plant based milk
The very best barrista oat I have ever had. I have tried all the others. It is like everporated milk excellent for all cereal ,superb for coffee and hot chocolate . I wish I can find them in supermarkets in London .
Love the test and foaming
I like the concept of not throwing oats away, like tea leaves. The flavour is good for me and i find the foaming better than other brands