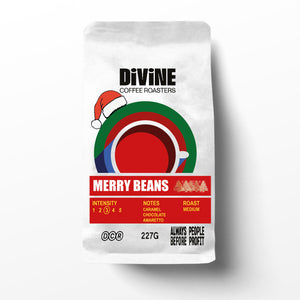 Merry Beans Maketh a Delightful Seasonal Cuppa
We've just about finished the kilo bag I recently purchased way before Christmas has really started. There's only one thing to do now to remedy this; place another order.
Lovely!
Really nice comforting blend, very drinkable and moreish. I shall be ordering more!
Easy going Christmas
A bit lighter and easier than the other Christmas special, but certainly not inferior.
Delicious hint of chocolate
I loved the Merry Blend last Christmas. First batch arrived yesterday and I can confirm it is just as deliciously tasty. It is a smooth coffee but there is a hint of background chocolate which makes it ideal for a Christmassy breakfast drink.