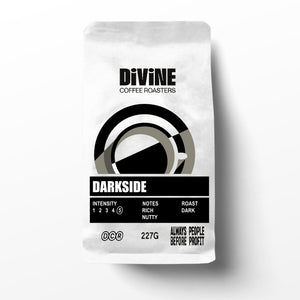 My favourite for the last year
This is my favourite coffee for the last year, I've tried this and I keep coming back to this. I love the thickness of it and the sweetness
Darkside Revisited
I've had Darkside on numerous occasions so, I'm saddened to say I'm coming to the end of my latest 1 kg bag of whole beans. Every single mouthful was a delight to behold, strong and flavoursome
So what's next? It's a kilo of Merry Beans, I've been waiting for this delight to re-enter the arena.
Don't worry Darkside I'll be back.
More darkside than Darth Vader
Only Palpatine can handle this! Amazing coffee, I get the beans, grind at home and use a Sage Bambino for Espresso / Americano / flat white. Absolutely divine. I always get sent very recently roasted coffee, usually 3-4 days which is perfect. If you like strong coffee then don't hesitate to grab a bag. A bargain at £21 / kg.
Right in your face
A lovely strong coffee with a real punch and lovely aftertaste. Loving using this blend in my V60 dripper, makes great short of long drinks. Definitely a keeper.
Finally a decent dark roast!!
I've been searching for my favourite beans ever since getting my Gaggia earlier this year. Tried lots of specialty medium roasts but nothing quite cut it until now. First time I will be reordering the same beans and will keep doing so. Everything I'm looking for in a cup of coffee, dark and intense but never bitter. Double espresso to start the day is perfect.