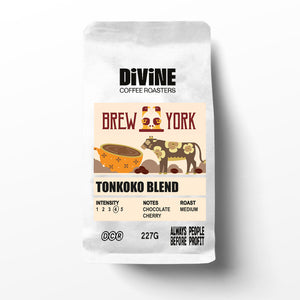 Lovely Blend
This was the first blend I tried from Divine after a weekend in York, and has been my go to ever since. It's an easy drinking blend but so full of flavour, just always makes me feel good.
Very Pleasing
This was my second purchase of Brew York Tonkoko Blend, the first being a 227gm taster bag of whole beans which convinced me to go for the full 1 kg bag.
This is a very satisfying coffee, the tasting notes are definitely there hitting the spot.
I'll have more in the new year but, it's Merry Beans time for me, these were very pleasing last year too.
Great Coffee
Really like this coffee - well rounded flavour, smooth, but despite not being a really dark roast has a strong taste. My favourite of the blends from Divine that I've had.
Great coffee
Rich flavour with a very very slight bitterness. Very enjoyable.