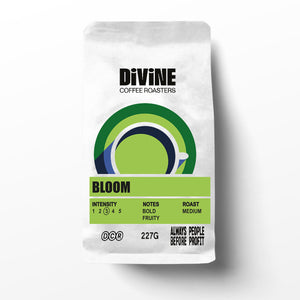 DIVINE ONCE AGAIN!
Another great coffee!
Never a doubt when it comes the coffee here.
Splendid indeed :)
Another great blend
Thought I'd try this instead of Fortuna. Will probably continue buying Bloom. Lovely mild, smooth coffee.
BLOOM'IN GOOD
BLOOM is the best tasting coffee I have tried. And I t has had so many good reviews from friends and family that have tried it at our home that some of them have signed up for a Divine coffee subscription! You can't beat that. We often have Decaf, which is also a perfect pick for those not wanting a caffeine hit!
Great coffee and service
Morning coffee is important for my wife and I am happy I found Bloom.
Bloom the smoothest for me
this is my favorite so far as i don,t like strong coffee