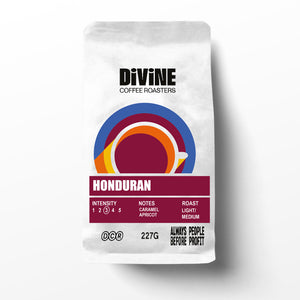 Great Flavour
I bought 2x Honduras and 1x Peruvian Limited Edition. Both gorgeous, light with multiple flavours coming through...superb for a flat white.
The Peruvian had the edge by far for me. Tried to reorder, must be sold out.
More please !
Great Coffee all round...Will purchase again.
Lovely coffee
These beans are nice and smooth, the coffee is quite light but with a rich, slightly nutty flavour. Great in the morning with milk. I prefer the Ethiopian beans, but I would buy these again.
I love this coffee!
A lockdown discovery that I've kept because it's so yummy. Thank you divine!
Great morning brew
Great for a morning coffee. As described - is light and with a caramel tone.
Absolutely divine
This is my favourite of all time it's absolutely divine.